Description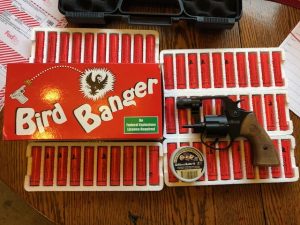 Boxes of 50 Bird Bangers with Free Blanks.
(minimum 2 box order point)
Scare birds and wildlife from crops, landfills, fish farms, feed lots and airfields with the 15 mm Bird Banger cartridge.
Launched from a single, double, or seven shot launcher with the aid of a 6 mm blank primer, the Bird Banger travels 50 to 125 feet before exploding with a loud report. Blank primers are included at no charge.